Conference Information
JSM (the Joint Statistical Meetings) is the largest gathering of statisticians held in North America. It is held jointly with the:
*American Statistical Association
*International Biometric Society (ENAR and WNAR)
*Institute of Mathematical Statistics
*Statistical Society of Canada
International Chinese Statistical Association
International Indian Statistical Association
Korean International Statistical Society
International Society for Bayesian Analysis
Royal Statistical Society
International Statistical Institute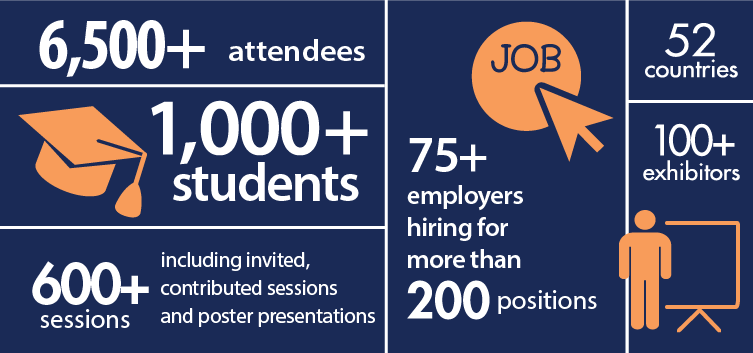 It is also one of the broadest, with topics ranging from statistical applications to methodology and theory to the expanding boundaries of statistics, such as analytics and data science.
JSM also offers a unique opportunity for statisticians in academia, industry, and government to exchange ideas and explore opportunities for collaboration. Beginning statisticians (including current students) are able to learn from and interact with senior members of the profession.
*Indicates the founding societies of JSM
Key Dates
Attend

May 1, 2017 11:00 AM
Registration and housing open
June 1, 2017
Early registration deadline
June 2, 2017 12:01 AM - June 29, 2017 11:59 PM
Regular registration (increased fees apply)
June 30, 2017
Housing deadline
June 30, 2017 12:01 AM - July 24, 2017 11:59 PM
Late Registration (increased fees apply)
July 29, 2017 - August 3, 2017
2017 Joint Statistical Meetings

Program Participants

July 14, 2016 - September 6, 2016 11:59 PM
Online submission of invited session proposals open
September 30, 2016
Online submission of Continuing Education course proposals deadline
October 10, 2016 - October 31, 2016 11:59 PM
Online submission of invited session abstracts open
December 1, 2016 12:01 AM - February 1, 2017 11:59 PM
Online submission of abstracts (all except invited papers and panels)
January 11, 2017
Online submission of topic-contributed session proposals deadline
January 15, 2017
Online submission of Computer Technology Workshop (CTW) proposals deadline
January 17, 2017 - April 7, 2017 11:59 PM
Online submission of JSM Meeting & Event Requests
January 25, 2017
Deadline to request registration extension for government agencies
March 30, 2017 - April 18, 2017 11:59 PM
Online abstract editing open
May 17, 2017
Draft manuscript deadline