Housing
The 2019 Joint Statistical Meetings will be held at the Colorado Convention Center, 700 14th St., Denver, CO 80202.
Events will be held at the following locations:
Colorado Convention Center: Technical Sessions, Poster Sessions, EXPO, Career Service, Plenary Sessions, Professional Development, and some Business/Committee Meetings and Events
Hyatt Regency Denver: Business/Committee Meetings and Events, Roundtable Discussions, Tuesday Night Dance Party, and First-Time Attendee Orientation
General Housing Information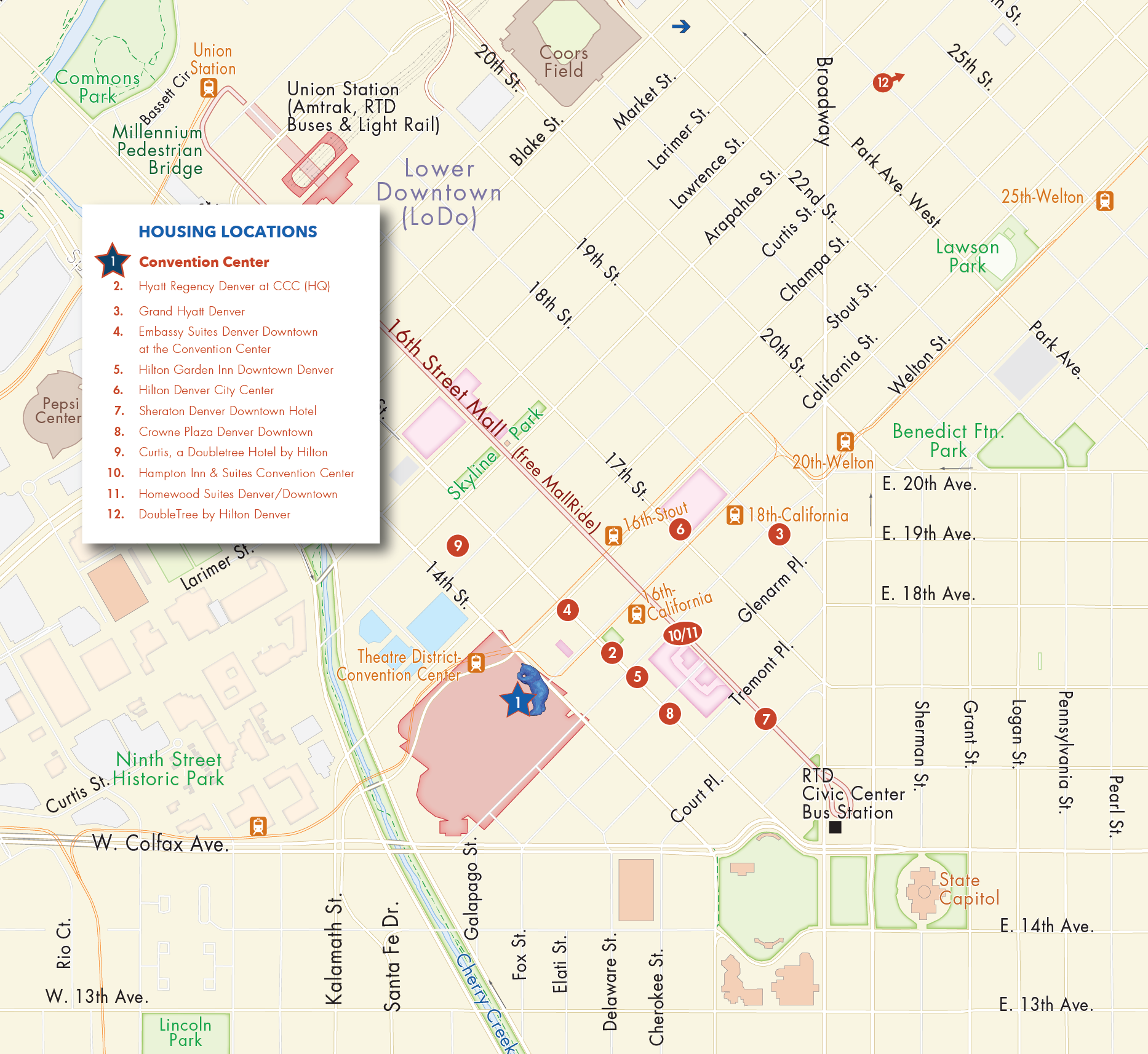 Click on the map to view a full size version.
Economy Housing Information
Don't need all the extras? If you just need a bed and don't mind sharing a room, there are a few hostels nearby. There is no group block for these options. Please research and reserve on your own.
Hostel Fish
1217 20th St., Denver, CO 80202
(303) 954-0962
stay@hostelfish.com
Online Reservations
11th Avenue Hostel
1112 Broadway, Denver, CO 80203
(303) 894-0529
Reservations@11thAvenueHostel.com
Online Reservations
Ember Hostel
857 Grant St., Denver, CO 80203
(303) 942-1633
info@emberhostels.com
Online Reservations
Please do not send housing forms to the ASA office or contact hotels directly.
JSM Housing Bureau Contact Information
Experient/JSM Housing
5202 President Court, Suite G100, Frederick, MD 21703
Phone: (800) 465-5411
Fax: (888) 772-1888
jsm@experient-inc.com
DEPOSIT: All reservation requests must be accompanied by a credit card guarantee. Housing forms received without valid and complete credit card information will not be processed.
ACKNOWLEDGEMENT: Acknowledgements will be emailed after your reservation has been made. You will not receive a confirmation from your hotel. Reservations are assigned on a first-come, first-served basis and according to room availability.
ONLY ONE ROOM may be requested on each form. You may photocopy the form if you need additional rooms.
CHANGES: Changes and cancellations may be made until July 3 by telephone at (800) 465-5411 (Monday–Friday, 8:00 a.m.–5:00 p.m. EDT) or email at jsm@experient-inc.com. Always indicate you are attending JSM and have your acknowledgement number ready. On July 3, reservation data will be transferred to the hotels and the JSM Housing Bureau will no longer be able to make reservation changes. As of July 9 (and not before), event hotels will be able to assist with reservation changes and cancellations directly.
CANCELLATIONS: Failure to cancel your reservation more than 72 hours in advance of your scheduled arrival or failure to arrive on your scheduled date will result in the hotel charging the credit card on file for one night's room and tax. Some hotels charge a penalty for checking out earlier than scheduled. To avoid this, please verify your departure date during check-in.
Importance of Staying in the Official Meetings Hotel
Your patronage of the official convention headquarters and overflow hotels enables the ASA to secure the meeting space at a greatly reduced cost, which helps keep the cost of the meetings and your registration fee down. With your cooperation, the ASA will continue to be successful in negotiating good contracts for the Joint Statistical Meetings and maintaining the programs and activities you have requested.
Important Message About Hotel Reservations
The official housing bureau for JSM does not solicit reservations by phone or email. If you are contacted by any housing bureau, we urge you to report them to ASA staff at meetings@amstat.org. If you receive a call or email from any company offering to make hotel reservations for you over our meeting dates, we urge you not to book with them. These companies are not affiliated with JSM or the ASA in any way and therefore are not authorized to make reservations on our behalf. While the rates may sound good, unauthorized companies typically require nonrefundable, pre-paid reservations and often end up moving individuals to other hotels. If you book with an unauthorized company, the ASA cannot protect you if there is a problem with your reservation when you arrive in Denver.