Local Information & Travel
Local Information
The 2016 Joint Statistical Meetings will be held at McCormick Place, 2301 S Martin Luther King Dr., Chicago, IL 60616.
Time Zone
Chicago is in the Central Time Zone.
Weather
Summers in Chicago are warm, with average daily temperatures around 78° F to 92° F. Temperatures can be cooler near the lake and in the evening. Websites providing basic weather information include www.weather.gov and www.weather.com.
Suggested Attire
We suggest dressing in lightweight layers or business casual clothes and comfortable shoes for walking around the city and convention center. With so many sessions spread out across the convention center, comfortable shoes are important. Be prepared with a light jacket or sweater for evenings and when attending sessions and meetings, as the convention center and hotels are air-conditioned.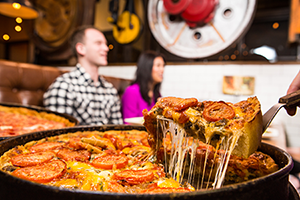 Restaurants and Attractions
With celebrity chefs, world-renowned restaurants, and ethnic dining from around the globe, Chicago has something for everyone. From lavish cuisine to deep dish pizza, one thing is for certain in Chicago: an appetite is required. Search detailed dining information.
Chicago also has many attractions, including Millenium Park and Navy Pier. For more ideas and suggestions, visit Choose Chicago.
Child Care
We have partnered with leading child care provider KiddieCorp to offer JSM attendees care for children 6 months to 12 years old. Care will be located within McCormick Place for $10/hour. Snacks and beverages will be included, but meals should be provided by parents. Read about details, pricing, and reservation information. Space is limited, so reserve early.
All policies are established by KiddieCorp, and all questions should be directed to KiddieCorp.
Travel Information
Airports

O'Hare International Airport
Midway International Airport

Airline Discount - Delta

Reservations and ticketing are available via Delta. When booking online, use the discount code NMNCN. Offer valid for travel within the U.S. and Canada.

Airport Shuttle Discount

Airport Express is offering a 20% discount for both airports.

Car Rental

Budget is offering JSM attendees discounted rental cars in Chicago from July 24 - August 11, 2016. The discounted rates are available online or by phone at 1 (800) 842-5628. To receive the discounted rates, be sure to use our Budget Customer Discount (BCD) number, which is U022018.

Note: Parking in downtown Chicago can be expensive. Be sure to contact your hotel for current rates.
Getting Around
Chicago is a great city whether walking, biking or using public transportation. The Choose Chicago website has information about public transportation, bike-sharing programs, taxis, and more.
Accessibility Information
If you have a disability that may impede your participation, check the box during the registration process that asks if you require special assistance and include a statement regarding your needs. The ASA Meetings Department will contact you prior to JSM, but appropriate accommodations cannot be ensured without prior notification.
McCormick Place is accessible to patrons with disabilities. ADA features include accessible parking (Lot A, Lot C, and the Hyatt Regency McCormick Place parking lot) and restrooms, automatic door entrances, TTY Access, and assisted listening devices. ADA service animals are welcome.
While there are four ADA accessible entrances, attendees will want to use the Drop Off or Pick Up at Gate 41 to access the West Building.
When reserving your room through the JSM Housing Bureau, choose the ADA option from the dropdown menu for attendee type.
Hotels
Most JSM events will be held at McCormick Place; however, plenary sessions and a number of meetings and events will be held at the Hilton Chicago. If you have trouble walking long distances and/or will use a wheelchair, we recommend staying at the Hilton Chicago or Palmer House. The JSM shuttle service will provide door-to-door service. If you plan to use a scooter, we recommend staying at the Hyatt McCormick Place. This will allow the easiest access for your scooter, with easier storage in your hotel room. Please alert the JSM shuttle service if you will be using a wheelchair or scooter.
Equipment Rental
Scootaround
(888) 441-7575
Wheelchair Rental Pros
(312) 404-8802
Mobility Shop
(888) 404-5554
Key Dates
Attend

May 2, 2016 11:00 AM
Registration and housing open
June 1, 2016
Early registration deadline
June 2, 2016 12:01 AM - June 30, 2016 11:59 PM
Regular registration (increased fees apply)
June 29, 2016
Housing deadline
July 1, 2016 12:01 AM - July 21, 2016 11:59 PM
Late Registration (increased fees apply)
July 30, 2016 - August 4, 2016
2016 Joint Statistical Meetings

Program Participants

July 15, 2015 - September 3, 2015 11:59 PM
Online submission of invited session proposals open
September 30, 2015
Online submission of Continuing Education course proposals deadline
October 8, 2015 - October 29, 2015 11:59 PM
Online submission of invited session abstracts open
December 1, 2015 12:01 AM - February 1, 2016 11:59 PM
Online submission of abstracts (all except invited papers and panels)
January 14, 2016
Online submission of topic-contributed session proposals deadline
January 15, 2016
Online submission of Computer Technology Workshop (CTW) proposals deadline
January 19, 2016 - April 5, 2016
Online submission of JSM Meeting & Event Requests
January 25, 2016
Deadline to request registration extension for government agencies
March 31, 2016 - April 18, 2016 11:59 PM
Online abstract editing open
May 17, 2016
Draft manuscript deadline