Roundtables
Roundtable luncheon discussions will take place Thursday, September 13. If you are interested in participating as a roundtable speaker, submit your roundtable discussion proposal online between January 4 and March 15 at 11:59 p.m. ET.
To aid productive discussion, roundtables will take place in a number of rooms, organized by general theme/topic. Each table will accommodate 8–10 participants. We recommend adding one or two key questions to your abstract that participants can prepare for ahead of time.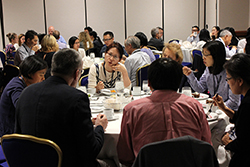 Lunch will be available for all attendees. During the registration process, you will be prompted to select a discussion table of interest. For those who wish to have lunch without participating in a roundtable discussion, lunch-only tables will be available.