Posters
A poster session will take place Friday, September 14. Poster sessions are scheduled to provide an opportunity for selected papers to be presented in greater visual detail and should facilitate vivid discussions with attendees. During the session, posters will be on display and poster authors will be present.
Presenting a poster offers the advantages of face-to-face extended discussions and the ability to display extensive graphic or tabular materials.
If you are interested in submitting a poster abstract, online submission will be open between January 4 and April 30 at 11:59 p.m. ET.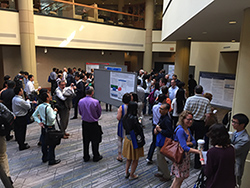 Student Travel Grants - Posters
Members of the ASA Biopharmaceutical Section Regulatory—Industry Statistics Workshop 2018 Program Committee are pleased to announce the availability of student travel grants. A limited amount of funding–up to $500 per student by reimbursement—is available to support students' participation in the workshop.
Eligibility Criteria
To qualify, a student must be the following:
A full-time student registered in a college or university program and working toward a master's or PhD in statistics, biostatistics, or a related field
An author who will present an accepted poster at the ASA Biopharmaceutical Section Regulatory-Industry Statistics Workshop in 2018
All recipients of the student travel grants are required to register for the workshop by the advance registration deadline of August 14, 2018.
Application Procedure
Submit an abstract for a poster presentation by April 30, 2018.
Email Christina Link with "Request for Student Travel Grant" in the subject line and the following details in the email body by April 30, 2018:

Name and current affiliation (department and university name)
Degree program (PhD or MS candidate)
Proof of full-time PhD or MS candidacy in good academic standing at the given institution

Submit the final electronic poster by July 20, 2018, to Christina Link.
Incomplete applications will not be considered.
Selection Procedure
The student travel grant committee—including members from industry, the FDA, and academia—will review all posters in a blinded fashion. A maximum of eight students will be awarded travel grants. Final decisions will be communicated by Christina Link.