"Helen Walker was chosen as the namesake for the ASA's first major donor club because she was a pioneer for the statistics profession. Like Helen, members of this society are leaders who have demonstrated their commitment to advancing statistics for the good of the profession and our society at large."
Helen Walker Society membership is extended to supporters who make a minimum annual gift of $1,000.
By becoming a society member, you are making a significant investment in the future of our profession and the important work we do for many years to come.
We will work closely with you to determine your personal philanthropic goals and match them with opportunities at the ASA. We customize recognition and stewardship based on what is important to you and your family.
In addition, members will receive the following benefits:
Prominent recognition on a plaque located at the ASA headquarters


Annual invitation to an exclusive Helen Walker Society reception at the Joint Statistical Meetings (JSM)


Welcome basket with registration packet personally delivered at JSM


Personal correspondence from the ASA executive director and president announcing new programs and initiatives


Recognition on the ASA website and in Amstat News


Customized recognition and stewardship opportunities
For more information about the Helen Walker Society and giving opportunities, please contact:
Amanda Malloy
Director of Development
732 North Washington Street
Alexandria, VA 22314-1934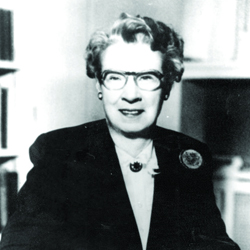 About Helen M. Walker
Helen M. Walker contributed to the field of statistics through her work in education and educational research. She was a longtime faculty member at Columbia University Teachers College and a member of numerous professional organizations. In the 1940s, a time when hardly any women held prominent academic positions, she was a unique pioneer in gaining professional visibility for women. In 1944, she was elected the first woman president of the American Statistical Association.
In her presidential address at the 104th Annual Meeting of the American Statistical Association, Walker expressed her regard for statistical education as something of a "service to the welfare of society." She said, "Even as the great scientists have exercised a stimulating and generating influence upon the scientific education of the non-scientist, it is time for the leading statisticians to put serious thought upon the statistical education of the non-statistician. … Ways must be found to make [the] general nature of statistical thinking better understood by the average intelligent citizen and particularly by persons in responsible positions—charged with policy formation."