Local & Travel Information
Local Information
Attractions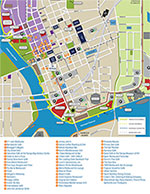 Tampa has many great downtown attractions that are close to the Hilton Downtown Tampa and mostly accessible by the Streetcar line. If you are interested in taking a taxicab, there is also an "in-town" zone around Downtown. Fares in this zone are a flat $5 per person.
Attractions worth visiting include the Florida Aquarium, the Tampa Bay History Center and the Tampa Museum of Art.
If you are looking to unwind after a day at the conference, try visiting Ybor City or Channel Side Bay Plaza. Both offer shopping, dining, and entertainment.
For a more comprehensive list of local attractions, please visit The Tampa Bay Convention & Visitors Bureau "Things To Do" webpage: www.visittampabay.com/visitors/things-to-do/
Wanting to extend your stay after the conference? Check out Busch Gardens Tampa Bay.
Dining
There are a great deal of restaurants within walking distance of the hotel. Check out the map of Tampa's downtown to find nearby restaurants.
If you are looking to venture a bit farther from the hotel for a good meal, try using Tampa's Dining Guide: www.VisitTampaBay.com/DiningGuide
Travel Information
The closest airport to the Hilton Tampa Downtown is Tampa International Airport. It is 8.9 miles or approximately 10 minutes.
Hilton Tampa Downtown offers shuttle service to and from Tampa International Airport. For a shuttle from the airport to the hotel please call (813) 204-3000. They will connect you to Blue One Transportation, the hotel's shuttle service. Rates are $13 for one person / one way. If you have a group of people it is $11pp / one way.
Taxi cab service is provided from the Commercial Ground Transportation Quadrants located in all four corners of the Baggage Claim Level. There is a maximum flat rate fee of $25 to Downtown Tampa.
For more ground transportation options please visit the Tampa International Airport website at www.tampaairport.com/ground_transportation/index.asp.
During your stay at the hotel:
The Hilton Tampa Downtown hotel is located right on the In Town Trolley line which will take you to a number of destinations. For further information on the Trolley and other public transportation options please visit the following website: www.gohart.org/index.html
If you would like to catch a cab from the hotel during your stay, the hotel Doorman or concierge will be able to assist you. Should you need an alternate form of transportation during your stay, the concierge will also be able assist you.