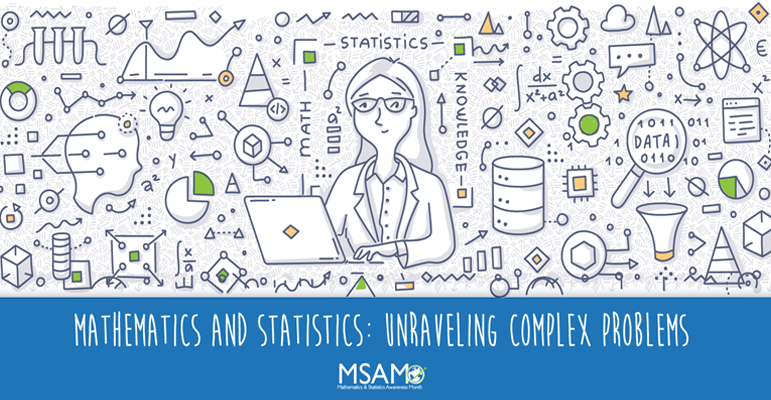 Activities
We encourage colleges and universities—and also high-school departments, institutional public information offices, math clubs, and student groups—and related associations and interest groups to organize and host activities in April for Mathematics and Statistics Awareness Month. Past activities have included workshops, competitions, exhibits, festivals, lectures, symposia, department open houses, math art exhibits, and math poetry readings. Some years, elected officials have issued proclamations, frequently in connection with special meetings and events arranged to observe the month.
Share your favorite math books, games, T-shirt designs, posters, news stories, videos, and research using hashtag #MathStatMonth.
Read about the origins of Mathematics and Statistics Awareness Month.
April marks a time to increase the understanding and appreciation of mathematics and statistics.
Why? Both subjects play a significant role in addressing many real-world problems—internet security, sustainability, disease, climate change, the data deluge, and much more. Research in these and other areas is ongoing, revealing new results and applications every day in fields such as medicine, manufacturing, energy, biotechnology, and business. Mathematics and statistics are important drivers of innovation in our technological world, in which new systems and methodologies continue to become more complex.
Basic research in mathematics is valuable in itself, but it often contributes to research in other sciences and has often, years later, led to discoveries that affect society today. For example, an encryption algorithm used today in e-commerce relies on results discovered in the 17th and 18th centuries, long before computers were invented. Mathematics has inspired some of the most stunning architecture and art.
In the age of big data, statistics underlies almost every decision made today, whether it's the effectiveness of a new drug or treatment or the debut of a new mobile device. Statistics is how analysts convert raw data into useful information, from studies of proteins to surveys of galaxies.
Research in statistics and the mathematical sciences is important for its applications and because it trains one in critical thinking and problem solving. From magic squares and Möbius bands to magical card tricks and illusions, mysterious phenomena with elegant "Aha!" explanations have been part of both subjects for centuries.
This April, let's celebrate mathematics and statistics and the diverse researchers and students in these fields who are contributing so much to furthering discoveries, solving problems, and finding beauty in our world.
Copyright Information and Terms of Use
© Copyright, JPBM
Copyright Ownership
Copyright, database rights, and all other intellectual property rights in the contents of the JPBM website,ww2.amstat.org/mathstatmonth, throughout the world are the exclusive property of the JPBM, except for content that is clearly user-generated and posted by persons other than the JPBM.
For all purposes of this Copyright Information and Terms of Use, references to "this website" include any blog, chat room, bulletin board, or other medium for user exchange of information that may from time to time be hosted on this website.
If you are not an employee or officer of the JPBM and you post content on this website, your doing so constitutes the grant of a non-exclusive, perpetual, irrevocable, transferable, royalty-free, fully paid up worldwide right and license to exercise and allow others to exercise any and all rights in such content, whether arising under copyright or any other law, with or without attributing such content, to you. The JPBM is under no obligation, however, to exercise such license and may at any time in its sole and absolute discretion remove any such content from this website without any liability to you whatsoever.
Infringement Claims
If you believe content appearing on this website infringes on your copyright, you may send a Notice of Claimed Infringement to the JPBM's agent designated to receive such notices. The contact information for such designated agent is:
Designated Copyright Agent
Steve Porzio
732 N. Washington Street
Alexandria, VA 22314
steve@amstat.org
(703) 684-1221
Such notice must comply with the provisions of 17 U.S.C. §512(c)(3)(A).
Terms of Use
Use of this website is subject to the following additional terms.
Your use of this website constitutes acceptance of the following terms:
1. You may, subject to the limitations set forth below:
Make searches of this site
View, print, or temporarily store one copy of a limited amount of material from this site on an ad hoc basis, solely for your own personal use; such copies may not be sold and may not be distributed to any third party
Download search results to your hard disk or other digital storage medium, solely for your own personal use; such data may not be made available to any third party
Personal use means use for your own scholarly research and not in connection with any commercial enterprise, whether or not for-profit.
2. You may not:
Download substantial portions of the content of this site
Conduct automated searching or downloading by use of scripted searches, robots, spiders, crawlers, or otherwise
Take password-protected content of this site available to any third party, whether by telephone, link, password sharing, permitting access through your computer, or by other similar or dissimilar means or arrangements
You must maintain all copyright and other notices that appear on any material you download or print from this website.
The JPBM has made and will make good faith efforts to ensure the accuracy of the information posted on this site. However, the JPBM does not warrant completeness or accuracy and does not warrant that your use of this site will be uninterrupted or error free or that the results obtained will be useful or satisfy your requirements. The JPBM expressly disclaims all warranties and representations of any kind, expressed or implied, including but not limited to warranties of merchantability or fitness for a particular purpose.
3. You may not post on this website any content that:
Infringes any copyright, trademark, trade secret, or other intellectual property right of any third party
Invades any person's privacy or discloses the home address or other private contact information, social security number, or other similar information of any person
Defames any person, product, or business
Is obscene
Contains statements likely to be offensive to persons of any race, ethnic group, nationality, religious faith, gender, or sexual orientation
Otherwise violates any law applicable to the JPBM
Overtly promotes the sale of any goods or services (A bona fide review of a book or other product of any kind will not be deemed to violate this prohibition.)
The JPBM does not monitor, review, or endorse user-generated content appearing on this website. However, without limiting its discretion stated above, the JPBM reserves the right to remove any content coming to its attention that, in its sole and absolute discretion, it deems violates any of the above prohibitions.
In no event will the JPBM be liable for special, incidental, consequential, or other damages arising from the use of materials on this website or from reliance on any information provided on or through this website.