Housing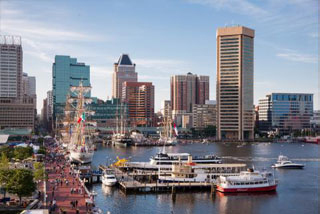 When choosing housing, consider the events being held at the following locations:
General Housing Information
| | | | |
| --- | --- | --- | --- |
| Rates | Single / Double | Triple / Quad | U.S. Government |
| Hilton Baltimore (HQ) | $219 | $239/$259 | $140 |
| Days Inn Inner Harbor | $169 | $169/$169 | $140 |
| Holiday Inn Inner Harbor | $189 | $209/$229 | $140 |
| Hotel Monaco | $199 | $219/$239 | $140 |
| Hyatt Regency Baltimore | $213 | $238/$263 | $140 |
| Marriott Inner Harbor | $210 | $220/$230 | $140 |
| Radisson Hotel Baltimore Downtown Inner Harbor | $169 | $169/$169 | $140 |
| Renaissance Harborplace Hotel | $210 | $220/$230 | $140 |
| Sheraton Inner Harbor | $229 | $249/$269 | $140 |
All room rates are quoted in U.S. dollars and subject to local taxes (currently 15.5%).
JSM Housing
100 Light St., 12th Floor, Baltimore, MD 21202
Phone: (800) 282-6632
Fax: (877) 238-3949
conventionhousing@baltimore.org
Please do not send housing forms to the ASA office or contact hotels directly.
DEPOSIT: All reservation requests must be accompanied by a credit card guarantee. Housing forms received without valid and complete credit card information will not be processed.
ACKNOWLEDGEMENT: Acknowledgements will be emailed after your reservation has been made. You will not receive a confirmation from your hotel. Reservations are assigned on a first-come, first-served basis and according to room availability. Please allow 48 business hours after JSM Housing receives reservation request.
ONLY ONE ROOM may be requested on each form. You may photocopy the form if you need additional rooms.
CHANGES: Changes and cancellations may be made until July 19 by telephone at (800) 282-6632 (Monday–Friday, 8:30 a.m.–5:30 p.m. EDT) or email at conventionhousing@baltimore.org. Always indicate you are attending JSM and have your acknowledgement number ready. On July 20, reservation data will be transferred to the hotels and the JSM Housing Bureau will no longer be able to make reservation changes. As of July 20 (and not before), event hotels will be able to assist with reservation changes and cancellations directly.
CANCELLATIONS: Failure to cancel your reservation more than 72 hours in advance of your scheduled arrival, or failure to arrive on your scheduled date, will result in the hotel charging the credit card on file for one night's room and tax. Some hotels charge a penalty for checking out earlier than scheduled. To avoid this, please verify your departure date during check-in.
GOVERNMENT PER DIEM RATE ROOMS: Government-rate hotel rooms are applicable only to employees of U.S. government agencies and require an eligible government ID at check-in. University employees are not eligible for government-rate rooms.
Importance of Staying in the Official Meetings Hotels
Your patronage of the official convention headquarter and overflow hotels enables the ASA to secure meeting space at a greatly reduced cost, which helps keep the cost of the meetings and your registration fees down. With your cooperation, the ASA will continue to be successful in negotiating good contracts for the Joint Statistical Meetings and maintaining the programs and activities you have requested.
Important Message About Hotel Reservations
The official housing bureau for JSM does not solicit reservations by phone or email. If you are contacted by any housing bureau, we urge you to report them to ASA staff at meetings@amstat.org. If you receive a call or email from any company offering to make hotel reservations for you over our meeting dates, we urge you not to book with them. These companies are not affiliated with JSM or the ASA in any way and therefore are not authorized to make reservations on our behalf. While the rates may sound good, unauthorized companies typically require nonrefundable, pre-paid reservations and often end up moving individuals to other hotels. If you book with an unauthorized company, the ASA cannot protect you if there is a problem with your reservation when you arrive in Baltimore.
Economy Housing
Radisson Hotel Baltimore Downtown-Inner Harbor
101 West Fayette Street, Baltimore, MD 21201

Room Rate: $149, plus taxes, per room ($74.50 per night, per person, two people per room)

A limited number of double occupancy rooms will be available July 29–August 3. Reservations must be made with Radisson Hotel Baltimore directly. The ASA cannot make or accept housing reservations and does not have a roommate matching service.
To Make a New Reservation (student block only)
Book by phone at (410) 752-1100 and ask for ASA JSM Students Group Block or use group code: ASASTU
To Update/Edit an Existing Reservation (student block only)
Email the Radisson directly (preferred) at lgill@radissonbaltimoreharbor.com
Call LaShonda Gill directly at (410) 385-6570
Key Dates
Attend

May 1, 2017 11:00 AM
Registration and housing open
June 1, 2017
Early registration deadline
June 2, 2017 12:01 AM - June 29, 2017 11:59 PM
Regular registration (increased fees apply)
June 30, 2017
Housing deadline
June 30, 2017 12:01 AM - July 20, 2017 11:59 PM
Late Registration (increased fees apply)
July 29, 2017 - August 3, 2017
2017 Joint Statistical Meetings

Program Participants

July 14, 2016 - September 6, 2016 11:59 PM
Online submission of invited session proposals open
September 30, 2016
Online submission of Continuing Education course proposals deadline
October 10, 2016 - October 31, 2016 11:59 PM
Online submission of invited session abstracts open
December 1, 2016 12:01 AM - February 1, 2017 11:59 PM
Online submission of abstracts (all except invited papers and panels)
January 11, 2017
Online submission of topic-contributed session proposals deadline
January 15, 2017
Online submission of Computer Technology Workshop (CTW) proposals deadline
January 17, 2017 - April 7, 2017 11:59 PM
Online submission of JSM Meeting & Event Requests
January 25, 2017
Deadline to request registration extension for government agencies
March 30, 2017 - April 18, 2017 11:59 PM
Online abstract editing open
May 17, 2017
Draft manuscript deadline