Travel Information
Hotel
ICHPS 2018 will be held at the Charleston Marriott Hotel. A limited number of rooms will available at a negotiated group rate beginning September 15, 2017. Please check back for more details.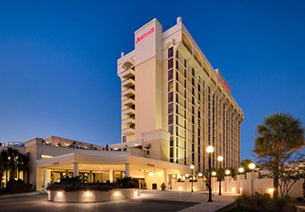 Charleston Marriott Hotel
170 Lockwood Boulevard
Charleston, SC 29403
Local Information
As Charleston has evolved, it has become more cosmopolitan while retaining its human scale and unique southern culture. The visual and performing arts scene is a vibrant and integral part of Charleston life. Shopping is also considered an art form, with the city earning a fashion-forward reputation. In short, you'll find many amenities usually associated with larger cities, but accompanied by our genuine hospitality.
Charleston is also home to a celebrated dining scene that is dynamic and ever expanding. With a steady supply of James Beard Award–winning chefs, restaurants push each other to new heights on a nightly basis—resulting in more tantalizing dining options for you!
Getting There