Onsite

WiFi
Sponsored by AbbVie
Walter E. Washington Convention Center and Marriott Marquis

Network: JSM2022
Password: abbvie22
Docents
Questions? New to JSM? Find a JSM docent to help you learn the ropes. JSM docents are experienced JSM attendees wearing an orange button who can help you make the most of your experience.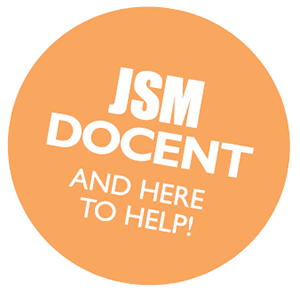 Travel
For travel information (airports, ground transportation, etc.), please check the local information page.
Policies
Electronic Devices
All cell phones, pagers, and other electronic devices should be silenced before attending any session or meeting.
Smoking/Vaping
Smoking and vaping are not permitted at any JSM function, unless the event is held outside.
Sustainability/Recycling
The "Know the Code" color-coded recycling and waste minimization program has helped the convention center take the lead on extensive recycling initiatives and effectively employ environmentally responsible products. Through a PepsiCo partnership, PepsiCo's recycling "dream machines" were installed surrounding the center to encourage beverage container recycling.
The convention center partners with many local sustainable businesses—including DC Central Kitchen, Capital Area Food Bank, and the District of Columbia Department of Public Works—to recycle pallets left by decorators.
Code of Conduct
As a professional society, the American Statistical Association is committed to providing an atmosphere that encourages the free expression and exchange of ideas. Consistent with this commitment, it is the policy of the ASA that all participants in ASA activities will enjoy a welcoming environment free from unlawful discrimination, harassment, and retaliation. All participants in ASA activities also agree to comply with all rules and conditions of the activities, which are subject to change without notice.
Please read the complete code of conduct.
Hours of Operation
Registration and ASA Membership/Help Desk/Press Desk
CC-East Salon
| | | |
| --- | --- | --- |
| Saturday | | 7:30 a.m. – 6:00 p.m. |
| Sunday | | 7:30 a.m. – 8:30 p.m. |
| Monday–Tuesday | | 7:30 a.m. – 6:00 p.m. |
| Wednesday | | 7:30 a.m. – 4:30 p.m. |
| Thursday | | 7:30 a.m. – 10:30 a.m. |
Speaker Ready Room
Sponsored by AbbVie
CC-209
| | | |
| --- | --- | --- |
| Sunday | | 9:00 a.m. – 7:00 p.m. |
| Monday–Wednesday | | 7:00 a.m. – 6:00 p.m. |
| Thursday | | 7:00 a.m. – 10:30 a.m. |
Career Service
CC-Hall E
| | | |
| --- | --- | --- |
| Saturday | | 9:00 a.m. – 5:00 p.m. (pre-registered attendee badge pick-up and onsite registration only) |
| Sunday | | 1:00 p.m. – 6:00 p.m. |
| Monday–Tuesday | | 8:00 a.m. – 5:30 p.m. |
| Wednesday | | 8:00 a.m. – 2:30 p.m. (onsite registration closes at noon) |
EXPO 2022 and ASA Store
CC-Hall D
| | | |
| --- | --- | --- |
| Sunday | | 1:00 p.m. – 6:00 p.m., 8:30 p.m. – 10:30 p.m. |
| Monday–Tuesday | | 9:00 a.m. – 5:30 p.m. |
| Wednesday | | 9:00 a.m. – 2:30 p.m. |
Destination DC Restaurant & Tourism Information Center
CC-Grand Lobby
| | | |
| --- | --- | --- |
| Saturday–Wednesday | | 10:00 a.m. – 6:00 p.m. |
JSM Luggage Storage
CC-East Salon
| | | |
| --- | --- | --- |
| Wednesday | | 8:00 a.m. – 6:30 p.m. |
| Thursday | | 8:00 a.m. – 1:00 p.m. |